English
Discover the Jardin botanique de Montréal's fabulous tree collections!
Over half the total area of the Jardin botanique de Montréal is devoted to the Arboretum and its impressive collections. Its 40 hectares are home to almost every species of tree capable of growing in our climate.
The Arboretum has about 7,000 specimens of trees and shrubs, in 50 collections. There are species native to Quebec and many cultivars imported from all over the world. All are identified and grouped by family and genus.
In this veritable forest in the heart of the city, visitors can see the way nature changes from season to season. The buds and flowers burst open in spring and summer. Fall is a perfect time for a stroll to admire the colourful leaves and fruit, while winter is nature lovers' favourite season for birdwatching and cross-country skiing in the peace and quiet.
Blooming times for the main tree groups
May: crabapples (Malus) and cherry trees (Prunus)
May to June: rhododendrons (Rhododendron) and lilacs (Syringa)
Early June: chestnuts (Aesculus)
Mid-June: locust trees (Robinia)
June to July: weigelas (Weigela)
Early July: catalpas (Catalpa)
July: lindens (Tilia)
Map of the Arboretum
It's easier to find your way around the Arboretum's collections if you use the map. The trees are grouped by botanical category.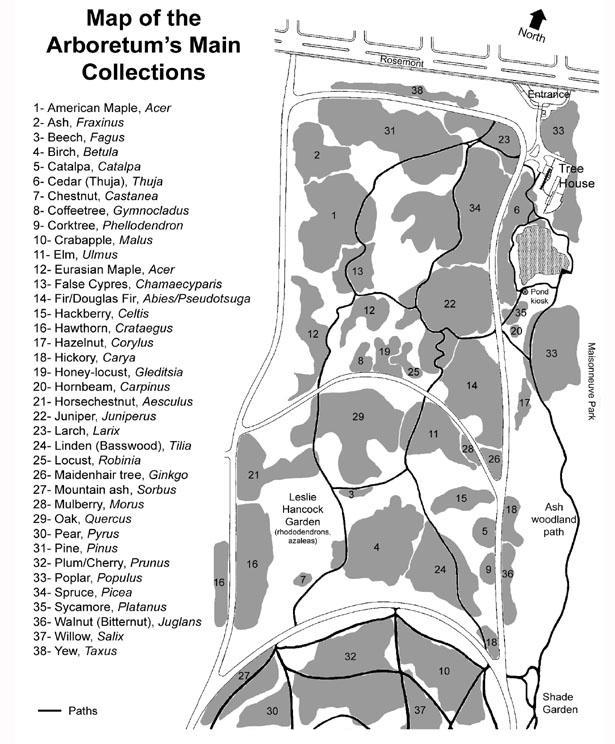 Downloadable documents