Once in a Lifetime: The Towering Flowers of Agave guiengola!
In our Arid Regions Greenhouse, a striking succulent has been dazzling visitors with its luxurious form and colour for the last 20 years. Now, our Agave guiengola will complete its lifecycle with an unforgettable floral display.
Escape the winter chill and check out this unique event as our agave's bloom soars above our cacti and other succulent plants!
An Ornamental Species from a Family of Useful Plants
This blue agave is best known by its Latin name Agave guiengola. Its Latin name comes from the limestone formation of Cerro Guiengola in the state of Oaxaca, Mexico where this species grows naturally.
Since the 1960s, Agave guiengola is cultivated in arid landscapes and botanic gardens throughout the world. Its eye-catching beauty makes it a sought after plant for desert gardens.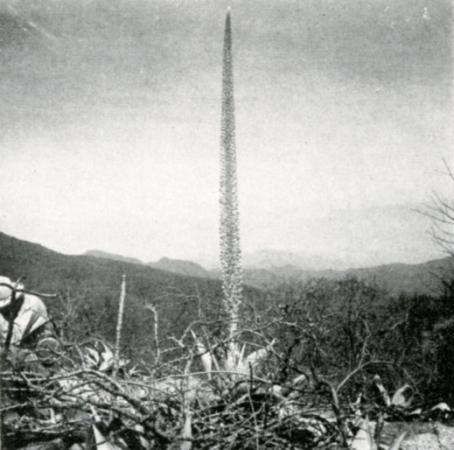 June 5, 1965 – The blue Agave guiengolensis in bloom on the Cerro Guiengola. The dwarf tree in the foreground is a Bursera sp.
Source: Cactus and Succulent Journal, Vol. XXXVIII, Jan-Feb. 1966, No. 1, p. 25.
1956 – This photo showcases Agave guiengolensis in nature, which are growing on a Zapotec pyramid in Guiengola, Mexico. Agaves are surrounded by other plants of the cactus family.
Source: Cactus and Succulent Journal, Vol. XXVIII, Nov.-Dec. 1956, No. 6, p. 173.
What makes Agave guiengola so unique is its shape and icy blue colour. This plant grows in a distinct open rosette that can exceed 1 meter in width and 1.8 meters in height. Its leaves grow in a spiral arrangement, emerging from the center of the rosette with an average of 25 to 30 leaves per plant. The fleshy leaves have a narrow oval shape which tapers to a dark brown spine at the end. The edges of the leaves are punctuated with serrated teeth, varying in size.
The most spectacular feature of this plant is its colossal floral spike which is said to range from 1.5 to 5 meters in height. By mid-January 2020, the spike of our specimen was already well over 2 meters tall. Soon, hundreds of small and pale yellow flowers will emerge. Agave guiengola is a monocarpic plant, meaning it will flower once in its lifetime and then die. It reproduces by seed at the end of its lifecycle and it also produces offsets or "pups" throughout its life.
Agave guiengola is part of the Asparagus family (Asparagaceae). The genus Agave includes many well-known crops. For example, blue agave (Agave tequilana) is used to make tequila and the century plant (Agave americana) produces agave nectar, a common sweetener.
A Rare Specimen with a Rich History
Although Agave guiengola is available on the market, it is rare in nature. This species is endemic to the Tehuantepec District of Oaxaca, Mexico. It has a natural distribution of 350 km² (equivalent to 70% of the area of the Island of Montreal). The IUCN Red List identifies Agave guiengola as endangered because of its limited distribution and habitat loss.1
The limestone mountain of Guiengola captured the attention of 20th century foreign botanists and archeologists. It is the site of 14th century ruins and remnants of Zapotec civilization. Thomas Baillie MacDougall an American naturalist and botanical collector traveled to region annually from 1931 to 1973, photographing the ruins, identifying plants and collecting material. He collaborated with Edward Johnston Alexander (Curator, New York Botanical Garden 1943-1963), sending him seeds and even taking him on a collecting expedition to Guiengola in 1945. Agave guiengola was first described in 1960 by Howard S. Gentry, an agricultural explorer for the US Department of Agriculture.2 In the same year, the Montreal Botanical Garden received seeds of Agave guiengola from MacDougall and the first specimen was cultivated. Our current flowering agave is an offset, a therefore an exact clone, of MacDougall's 1960 specimen!
Enjoy this remarkable plant for a limited time, but rest assured, another stunning offset was planted in the Hacienda Greenhouse in 2019. We can therefore admire this beautiful agave for years to come!
1IUCN Red List : Agave guiengola
2 Gentry, H. S. 1960. A new Agave from Oaxaca, Mexico. Brittonia 12: 98–100.