English
BEFORE LEAVING
In our concern to ensure a pleasant and safe visit for all, Espace pour la vie appeals to everyone's sense of civic responsibility and asks you not to visit the premises if:
you have symptoms such as cough, fever, runny nose (unknown reason)
you have difficulty breathing
you've been in contact with someone with COVID-19 in the last 14 days.
Questions   Answers
Access and reservation
What is your reception capacity?
The reception capacity of all our museums is back to normal.
Given that the reception capacity is calculated by half-hour, does this mean that we have to finish our visit in 30 minutes?
Visitor admission is staggered at 30-minute intervals so that visitors don't end up gathering in crowds. For each of Espace pour la vie museums, the length of time people stay varies with their level of interest. We recommend you allow between an hour and an hour and a half for your visit.
Do I have to book my ticket online to access the museums?
The purchase of fixed-time tickets online is not mandatory butis highly recommended.
What happens to the expiration date of my Space for Life Passport?
The expiration date for all passports that were purchased before our museums close on December 21, 2021 will be extended by 49 days.
I am a member of a Espace pour la vie museum friend society, do I need to book my ticket online to access the museums?
Friends of the Montréal Botanical Garden may enter the museums without a reservation, subject to availability. Members of the Society of Friends of the Montréal Biodôme and the Montréal Planetarium Astronomical Society (when the Planétarium reopens) must reserve their tickets in advance.
I have a valid Accès Montréal card, do I have to book my ticket online to access the museums?
Holders of a valid Accès Montréal card must go to the box office in person to obtain their discount, depending on availability.
Is it possible to make a group reservation?
Groups are welcome by reservation only. Due to reduced capacity, services for groups are limited.
Are the shops and restaurants / snack bars open?
All museums' shops are openas well as the Biodôme's restaurant. At the Jardin botanique, the Café terrasse, the Milk bar and the Bar Terrasse of the restaurant are closed until the spring. Consult our business hours here.
Are lockers available for use?
The lockers at the Biodôme, Jardin botanique and Insectarium will be available for use.
Do I have to book my ticket online to access the Jardin botanique's outdoor gardens?
No, not during low season. The high season starts on May 1st.
I have an Early Bird card for the Jardin botanique, can I now enter the site in the morning?
In the off-season (until April 30), the Rosemont and Sherbrooke entrances (near the parking lot) are accessible without an Early Bird card as of 7:30 am. In accordance with public health regulations, the vaccine passport is not required in the outdoor gardens during winter.
What activities can I carry out on the Jardin botanique's outdoor site?
Walking, bird watching and cross-country skiing if snow cover allows. Please stay on the open pathways. Snowshoeing is prohibited everywhere in the Jardin botanique.
Tips for visiting the Jardin botanique's outdoor gardens
Breathing in some fresh air at the Jardin botanique de Montréal is like going to a museum!
In order to protect the precious collections of plants and shrubs, it is prohibited to:

Touch plants or climb trees;
Walk a pet.

Help us preserve this jewel by staying on the walking trails or the paved path (for jogging).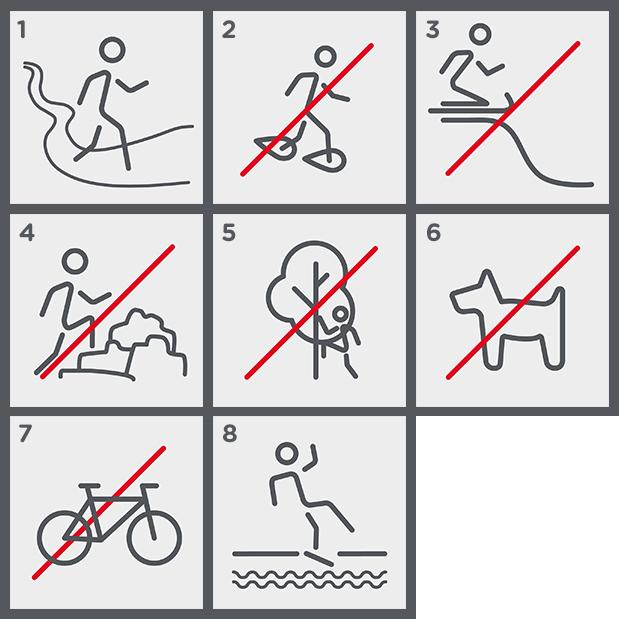 Stay on the walking trails.
Snowshoeing is prohibited.
Sliding is prohibited. The use of sleds is only allowed on the main trail.
Climbing on rocks, works of art and buildings is prohibited.
Tree climbing is prohibited.
Pets are not welcomed at the Jardin botanique.
Biking is prohibited.
Do not venture out on the lakes.