A sheep in wolf's clothing: Batesian mimicry in insects
Defense mechanisms and aposematic signals
To prevent being eaten by their many predators, insects resort to a host of defense mechanisms. The monarch butterfly, for example, is indigestible thanks to toxic substances that it stores in its body when it feeds on milkweed. Some ants form highly aggressive and territorial colonies. Other species, such as wasps, have a stinger capable of inflicting painful wounds. These defense strategies are often accompanied by a warning called an aposematic signal. These signals can take a number of forms: intensive coloring, an extraordinary appearance, recognizable sounds or smells. Whatever the signal, its effect is to notify potential predators that this prey is to be avoided. Aposematic signals protect both prey – and predator! After being stung once, a predator will associate the yellow and black pattern of a wasp (aposematic signal) with the pain of the sting. The sacrifice of a single wasp will protect the species from future attacks by that predator. In addition, the predator will no longer get stung, because it will avoid consuming wasps and everything that may look like one for quite some time. The more unpleasant the experience, the more firmly will the signal be stamped in the predator's memory.
Batesian mimicry
Certain harmless species imitate the aposematic signals of "dangerous" species to protect themselves when confronted with their predators. We're talking in these cases of Batesian mimicry (in honor of naturalist Henry Walter Bates). For this type of mimicry to work, three different species are involved: the model, the mimic and the dupe. The model is the species that does all the work, by developing a defense mechanism feared by predators. The mimic is the species that imitates the model's aposematic signal. Finally, the dupe is the species that perceives the mimic's signal as a true aposematic signal: it's duped! For instance, the hoverfly, a small harmless pollinating fly without a stinger, imitates the yellow and black colored patterns of wasps. Thanks to that dishonest aposematic signal, our predator will avoid eating the hoverfly for fear of being stung, and without ever having tasted a hoverfly in its life!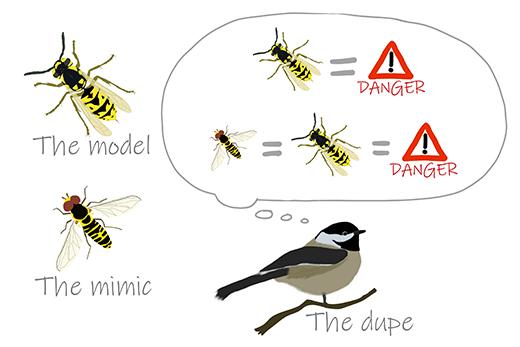 From mutation to mimicry
Mimicry is an involuntary defense mechanism guided by random mutations and by natural selection. A hoverfly doesn't wake up one day and decide to don a wasp costume to avoid being hunted by its predators. Mimicry begins with a random mutation in the genes of an individual. Just as with humans, insects inherit genes from their parents. Sometimes a gene undergoes a random mutation that results in a feature that is absent in the mutant's ancestors. For example, a hoverfly may be born with a mutation in its color pattern that gives it more stripes than its sisters. Predators of the hoverfly, confused by this never-seen-before pattern, will be more inclined to eat its sisters than our mutant. Having survived, the hoverfly will give birth to hundreds of other striped hoverflies. Thanks to natural selection, these characteristics, which offer a better chance of survival, and therefore of reproducing, will be passed from generation to generation. Such mutations are extremely rare, and do not always increase the chance of survival. So imagine the number of generations and random mutations needed for the descendants of our striped hoverfly to become indiscernible copies of wasps… We're talking about thousands, even millions of years!